Pleasure garden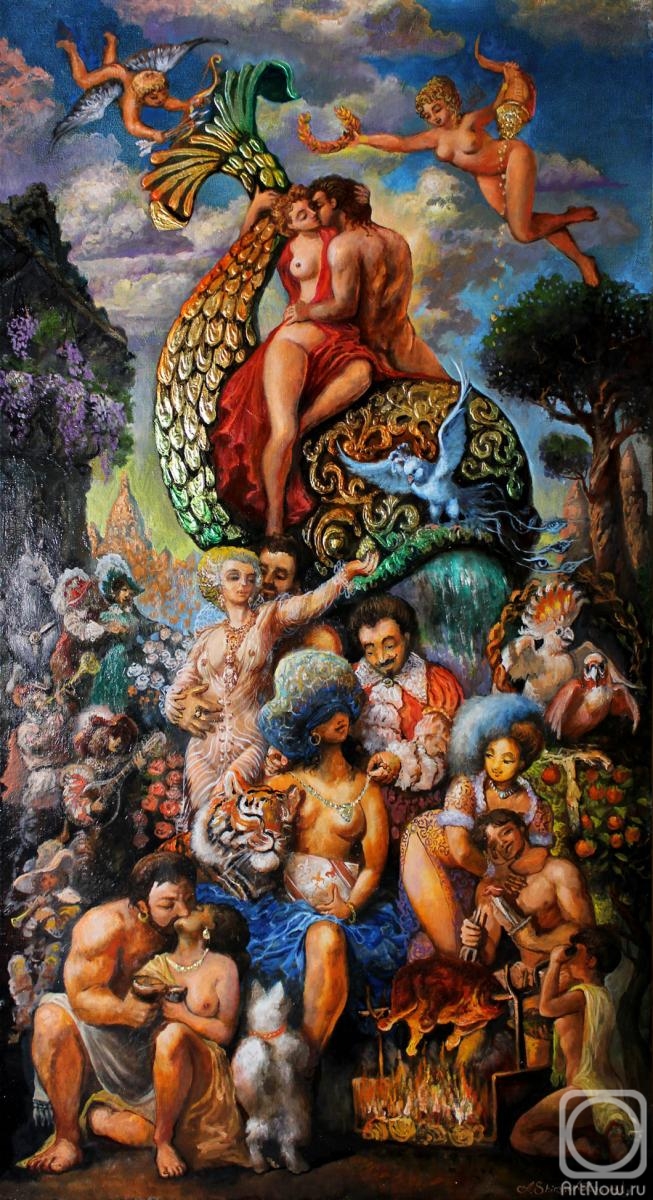 canvas/oil 100cm x 180cm 2021
Available!
Price 2025 USD

Add to cart
Buy now
e-mail to the artist
Publication date: 2021.10.02
I am completely sure that the future can be programmed, the latest scientific discoveries, for example, in quantum physics, fully confirm this, so I decided to write this large, 100x 180 cm picture with gold and an abundance of beautiful bodies. My teachers: Rubens, Titian, Boucher have repeatedly addressed this topic. Gardens of love and pleasure attract with their atmosphere, holiday and colors, which literally fill the brain with positive and somewhat frivolous images. The time of kings, charming ladies, exquisite pleasures and adorable animals appear on my canvases with the help of invisible helpers. Creating these canvases, I myself feel great joy and freeze for a long time, examining the details and lacquer surfaces of the whims of oil overflows.
In this oil painting, I decided to introduce the technique of colored gold, maybe it is somewhere else, I have not seen it, the technique was invented by itself. The embossed gold shimmers and creates a stunning effect. As for the naked bodies, wonderful models helped me, thanks to them. The idea was inspired by a visit to Versailles and the exquisite fantasy of King Louis 14, King of the Sun. The eroticism that fills my favorite Baroque style, here in every scene, as a director, I built several piquant locations and, like in the timeless "Decameron" by Boccaccio, I honed the composition and turns of heads and figures.
The coming year will be under the sign of the Tiger, this is a sign of my daughter, and I dedicated the painting to her.
I hope it will delight you, decorate a decent home, and bring a lot of positive emotions. I can also make a frame, but this will complicate the shipment and therefore it is better to order a baguette on the spot, based on your interior.