Grotesque series of market relations 1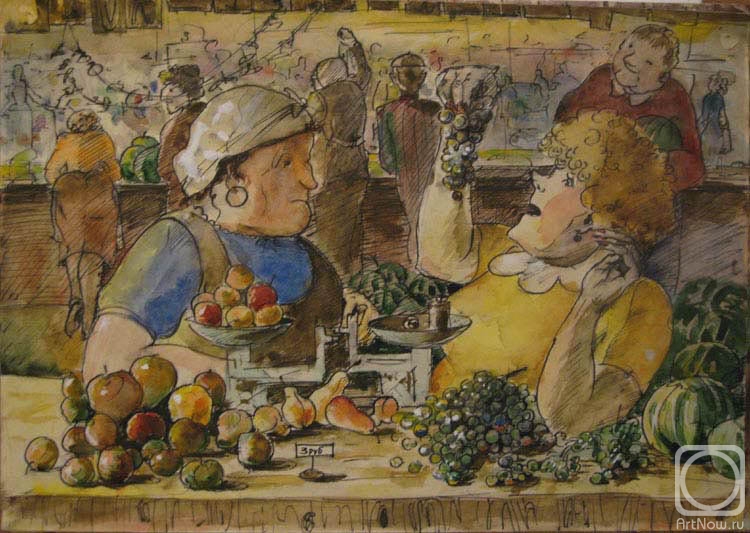 paper/water-color 28cm x 38cm 1985
-Mihevna you sit for a long time?
-Yes, no, Nikitichna recently.
-Look. .. grapes! Wheres the wine?
Im waiting for it for a long time!
-Nikitichna! Lets get drunk with you strongly in
off.
- Almost carouse Mihevna think up?
- Itching, my soul. ..
- Oh. ..? In love?
- Rate increased, again, its time belongings
sell. ..
- Mihevna. …. not grieve, break through. more than once
held
we are abroad and the enemy fled.
- Nikitichna, while others were, the people of
The crisis is not known. And now. .. - then killed there -
granddaughters were killed. .. in the internet still is sitting, daughter
governess gave way, but first with my husband
divorced, and I did 6 years taught hoped
I do not like. … A son. .. all the bombs in a taxi
Grandma. … Im not who I do not need. …
- Mihevna and come back for our Motherland
get up. I will make you into parliament, il
in action before you know it we will achieve the truth.
- Let Nikitichna! Come on, a couple of officials
Press down and say - "Hey, you bastard! This is not
Paris and Peter Grad!
- With Mihevnoy we fought the dashing. . and not as
men escaped from my hand. immediately
amended legislation!! Do not you dare rates
raise!!
- And then Nikitichna together, you dozhmem, her
her dozhmem.