Home

/

Artists

/

Decor

/

Naumova Marina

/

The artworks

/
Designer handmade lamp from the pumpkin club (cudgel) "Arab Night".
The club (cudgel) is a sort of decorative pumpkin, which is created on the basis of long gourd and bottle Dipper (Northern Caucasus).

I do love this pumpkin shape for its grace and the ability to embody fabulous, magical patterns.
The lamp "Arab Night" is decorated with stones, flatbacks, inserts of colored glass.The pattern is not repeated. In combination with a ghostly, light glow, which is created not through a cut pattern, bright golden glimpses make the lamp enigmatic.

The lamp is finished by hand made transparent stone, through which a soft golden light goes from inside. Altogether it creates an absolutely amazing and mysterious image that magically influences on a person. It calms and pacifies.

The lamp had been created during 3.5 months. It has tens of thousands of small holes. The lamp stands on a specially made wooden stand.

Led lightning.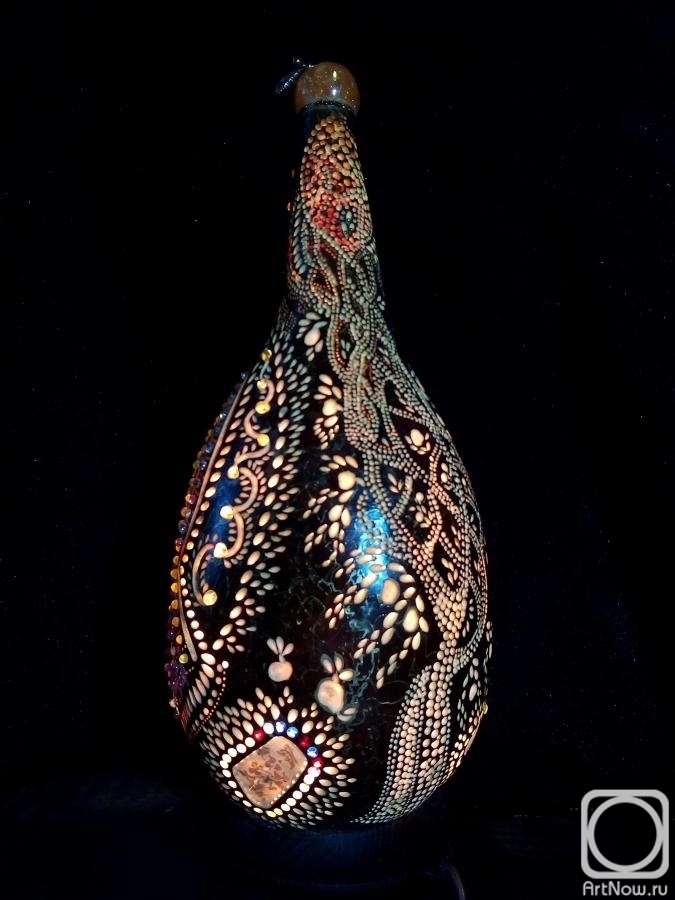 50cm x 25cm 2018
The artwork is framed
Available!
Price 1500 USD

Add to cart
or
buy now

e-mail to the artist
2018.10.01