6 geniuses. Asia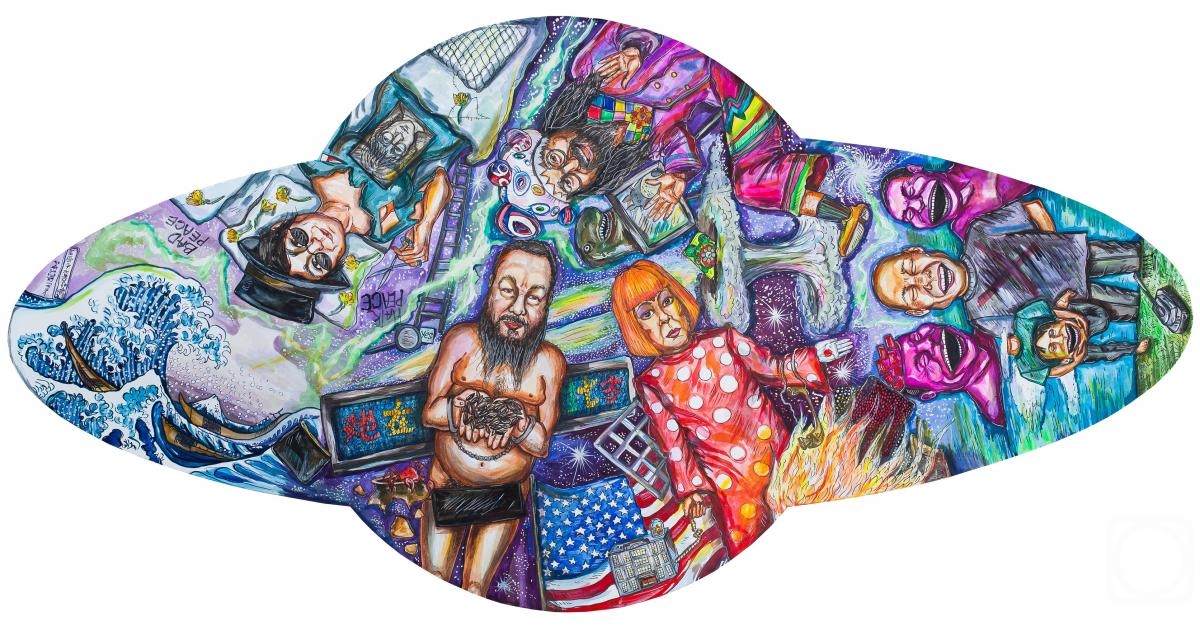 paper/water-color 40cm x 90cm 2020
The artwork is framed
Available!
Price 595 USD

Add to cart
or
buy now
e-mail to the artist
Publication date: 2020.12.13
The work uses symbolism associated with biographies and works of artists. Space is a symbol of these artists immersion in art.
Katsushika Hokusai (Japan), depicts the famous work "Big wave in Kanagawa" which was created in the early 19th century.
AI Weiwei (China)
Behind the artists back is the memorial "Remember" dedicated to the victims of the devastating earthquake in may 2008 in Sichuan province, which killed 5,300 children.
Yayoi Kusama (Japan)
Polka dot dress-this ornament is the artists business card. The artists mother had a habit of sneaking up behind her and snatching the drawing from the childs hands. Perhaps this is why Yayoi always draws so quickly and furiously, as if she is afraid that someone will approach her and take away her work. This is her sublimation, her world of minimalism, an opportunity to escape from reality.
Yue Minjun (China)
His laughing people are a self-portrait of the artist, but the paintings depict executions or suffering. The image of social realism, which turned inside out, bringing to the surface all the horror of the political system of the PRC and its indifference to the individual.
Takashi Murakami (Japan)
The artist in the image of his alter ego Mr. DOB - Mr. DOB symbolizes the post-war Japanese culture of imitation: in the creature with large ears, you can find the features
of computer game characters, heroes of popular Japanese anime.
Yoko Ono (Japan)
Pastels with flowers and inscriptions above the pillows are a symbol of the weekly performance "in pastels for peace" by John Lenon and Yoko Ono. Flowers are a symbol of pacifism.