Burtasenkov Alexey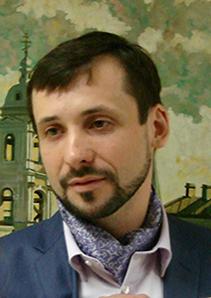 Registration 2014.11.02
ArtNow rating: 617
Church of Peter and Paul in the evening light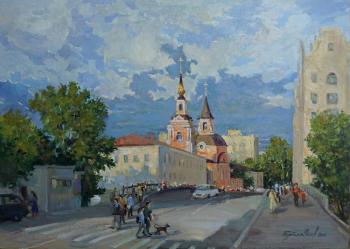 New Basmannaya view of the Moscow Metro and the Peter and Paul Church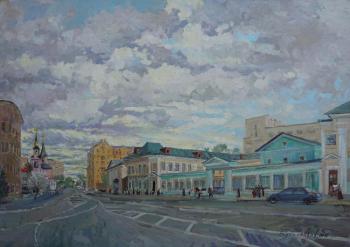 Evening exercise on the Great Nikitskaya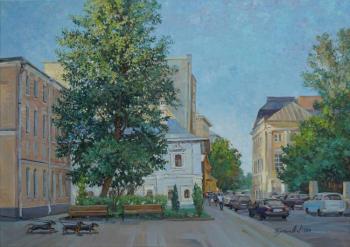 The ball flew off in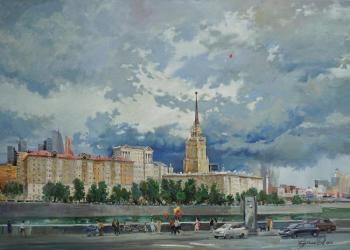 Biography
Burtasenkov Alexey artist painter, muralist. Member of the Russian Artists' Union. Member of the Board of Directors of the Association of art workers and culture "Artists" New itinerants. " Member of the Ministry of Agriculture (Moscow Union of Artists). G., p. 1975. He is married and has two sons, engaged in yachting.
2003 graduated from "Saint-Petersburg State Academic Institute of Painting, Sculpture and Architecture named after Ilya Repin". Studio of monumental painting under the guidance of Professor A.A.Mylnikova, his diploma "Holiday on the Neva, 1724.", To the oak hall of St. Petersburg administration.
Received a grant of the Government of Saint-Petersburg in the category Painting of 2003, the winner of the Prague Festival of Arts. In 2002-2003, he performed a series of paintings "Vasilevsky Island" for the Conference Hall of Administration building Vasilyevsky Island district of St. Petersburg.
2004 - 2007 work in the creative studio of Academy of Fine Arts. (Postgraduate) taught at the Repin Institute. In 2004 the creation of a mosaic St. George in Moscow. 2008-2011sozdanie murals and paintings in the President's residence in Strelna, Saint - Petersburg, the Moscow Government House in Minsk. Rehabilitation center for veterans. The private mansions of Moscow, Sochi and St. Petersburg. He conducted master classes in the cities of Courchevel 850 - France 2007 Bodrum - Turkey 2008, in Bishkek Academy of Arts - Kyrgyzstan 2011.
2010 was awarded the medal "Talent and Calling". Diplomas for participation in Russian and international exhibitions. Certificates of the Moscow Union of Artists. Diploma of the Academy of the Interior Ministry and the State Duma of the Russian Federation in 2013, led by the Ministry of Agriculture gallery located at Tverskaya - Yamskaya 20. From 2014 the leader in artists assotiation "Alex Burtasenkov studio ". In 2015 he made a personal exhibition in France "Russian Novels" and the State Duma of the Russian Federation and the Government of St. Petersburg. In China, "The Future of Art" - personal exhibition. Second International Art Exhibition 2015 (Zhongshan). In 2016 personal exhibition " in the Federation Council of the Federal Assembly of the Russian Federation.
Works in monumental art, historical painting, still life, landscape, portraits. Pictures acquired Lipetsk Regional Art Museum Foundation, Bulat Okudzhava on Arbat Moscow, the State Memorial History and Literature and Natural Landscape Museum - Reserve Pushkin. Her paintings are in galleries in Russia, America, France, Germany, Finland and China