Artists

/

Painting

/

Loginov Ilya

/

The artworks

/
Я не верю в красную нить судьбы, и дожди, идущие в январе
I do not believe in the red thread of fate, and the rains coming in January.
in the throat, a lump of bitter - "if". if only you were mine.
if I had been born in the twentieth century, the time of kings and iron armor,
I would challenge the whole damned world, heaven and earth, Eden and hell.
you could believe my poems, and the words that ring in your ears with blood, -
"I'll never give you up to anyone," and "you know, my soul hurts like hell."
I was born in the twenty-first, tired age. I have a through hole in my chest.
I don't see flowers or lights in my dreams, just the white powder of a dry Blizzard.
the snow creaks under my feet, my North is quiet. it doesn't matter how many roads lead,
I could only find one, the one that would lead right to your doorstep.
everything about you is inappropriate, but so easy. the warm copper of Golden braids flows.
I just need to touch you with my hand and curl up at your feet like a faithful dog.
you are from the sun, and it seems from the sand, woven from thin, ringing strings,
celestial mountains and coastal rocks, blue-winged and clear-eyed moons.
everything in me is frost, damp fog, hundreds of book pages, and tobacco smoke.
I didn't know what it was to go crazy. I didn't know - that means I was empty.
you have live dragon blood in your veins, and I have a gray metal alloy in my veins.
the one in heaven who distributes love, this time was wrong, so was wrong.
I do not believe in fairy tales, I do not believe in dreams, we are from different latitudes of the earth.
I did not see the wings of the colored spring, everything in me is brittle and prickly ice.
only the red thread cuts into the hand. twenty-third cold January.
this is nonsense. and this can't be happening. but raindrops fall on the ground.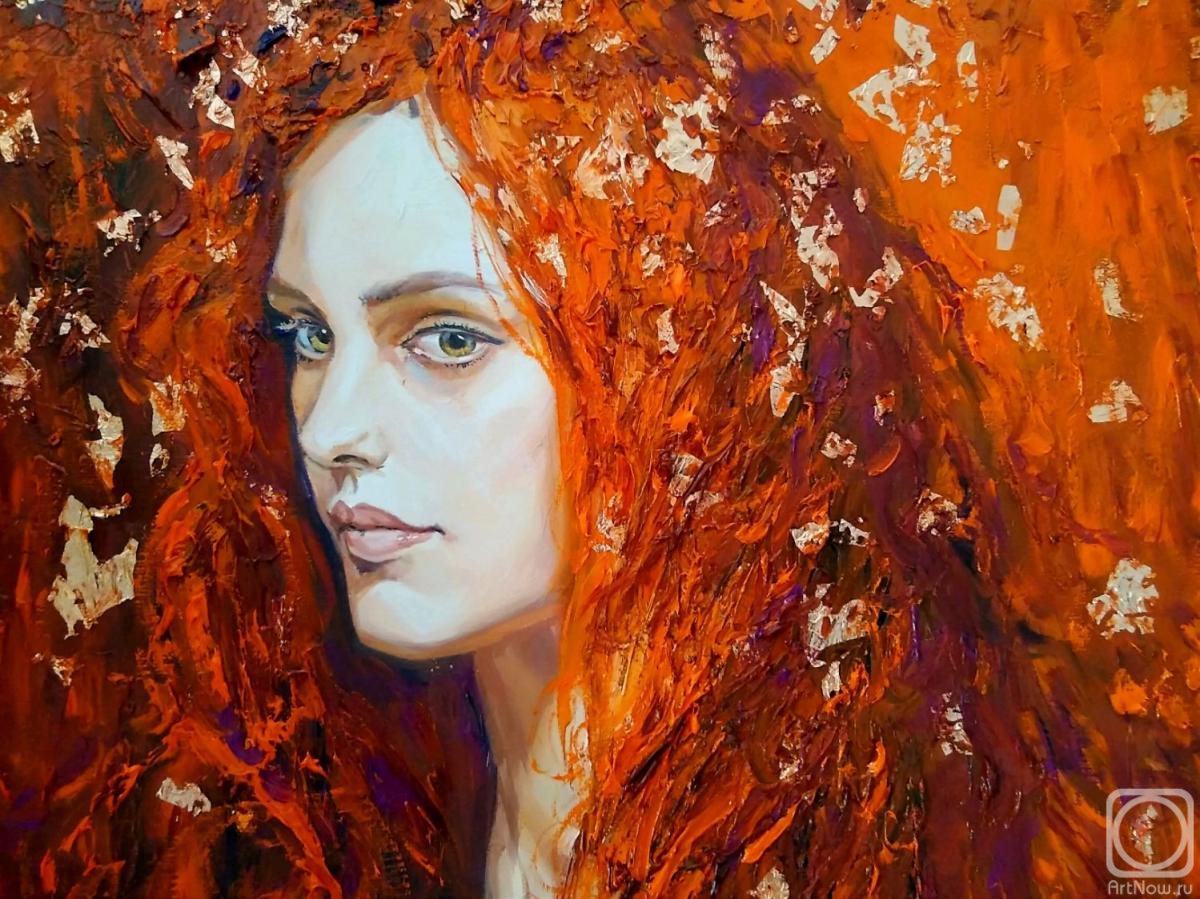 canvas/oil 30cm x 40cm 2019
Available!
Price 269 USD

Add to cart
or
buy now

e-mail to the artist
Keywords:
re
,
portrait of a woman
,
portrait from life
,
portrait of a girl
,
autumn colors
,
autumn mood
,
female portrait
,
red- haired
,
portrait of a girl
,
nymph
,
portrait by photo
,
portrait to order
,
forest fairy
,
portrait by photo
,
red
,
red
,
portrait
,
autumn
,
fairy
2020.03.11